Top Five Zip Codes in Washington County: January Sales Report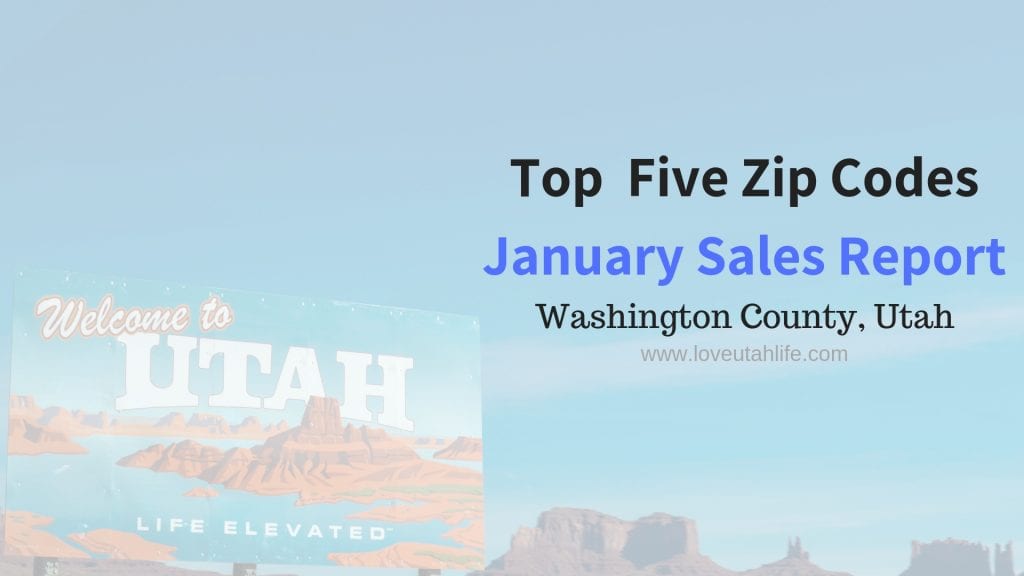 Highest Priced Zip Code in Washington County: January, 2019
The top five zip codes for Washington County were all over the place for home sales and prices. Overall, Washington County was down 17.4% in sales, but median sales prices were actually up 12.78% compared to 2018. I'm going to break it down by the top five zip codes to further analyze where people are buying and what's happening in each town.
84770: St. George
St. George listings were up in price, but home sales were down on average. However, the median home price was up, which would justify the increase in list prices. Click here for a better explanation of "average vs. median" in relationship to real estate. According to TripSavvy.com "If the average price in a particular area is higher than the median for the same time period, that tells you that the area contains significantly higher-priced houses even though in that particular time frame, sales were strong in the lower range."
73 homes sold this January in 84770, down 2.7% from last January's sales of 75 homes. There is more inventory in 84770 this January than there was last, which is a great thing for buyer's agents like myself!
84790: South St. George
84790 is a popular zip code right now! 85 homes sold in January, which is actually down 5.8% from last January, but the highest overall in the county. There are more new developments in 84790 than anywhere else and growth is booming on the south side of the river! However, there is more inventory this year and homes sat on the market much longer this January than they did last.
Prices were up almost 27% on average which is INSANE. There are some big, expensive houses out in 84790. Speaking of which, check out these gorgeous luxury homes in 84790.
84780: Washington
What is happening in Washington?!? Inventory is down but homes sat on the market more than 50% longer this January than last. Sales PRICES are up slightly from last year, but overall sales were down almost 36%! Only 41 homes sold in 84780 this January compared to 64 from last January. I'm sure if I dug deeper there were probably new subdivisions that sold out last year, which would explain the higher priced homes this year and lower inventory. Here's a list of all the available homes in Washington, Utah under $300k, which seems to be the hottest priced homes on the east side of town.
84765: Santa Clara

Santa Clara is such a charming community with so many awesome amenities and features! Have you heard about the new Snake Hollow Bike Park? My husband and I are considering buying out west just to be close to this fun new city park! Here are some homes within BIKING distance to this amazing outdoor venue.
Santa Clara's market numbers are all over the place...I'm not sure where to begin. Inventory is down and new listings started at lower prices, but homes sat on the market and did not sell for longer than anywhere else in town! However, the median sales price was up almost 21%! There was only 11 homes that sold in Santa Clara this January, versus 16 last January (it's a smaller market with less land to grow and fewer new developments...)
Santa Clara consists of mostly existing neighborhoods which probably explains the longer days on the market. However, I've heard of some HUGE developments in the works for Santa Clara, which should liven things up A LOT.
84738: Ivins

In case you aren't familiar with our gorgeous red rocks, Ivins is basically the epicenter of red rock heaven. It sits at the base of the Red Mountain, i.e. The Red Mountain Spa, as well as Snow Canyon State Park. If money and my kids school boundaries were no issue, I would buy this 1 acre view lot, build this gorgeous Architectural Designs Home and move to Ivins.
Homes sat on the market longer in Ivins than other parts of the county, but the median SALES price was up over 27%. Inventory is also up (I believe there are a few new subdivisions opening up) and there was one less sale this year than last (13 vs. 14). It's interesting to see that Ivins has the HIGHEST AVERAGE list price of anywhere in the county and the highest average sale price as well, but Santa Clara is actually higher for median sales prices.
So Which Zip Costs the Most?
I am totally surprised to see that Santa Clara has the highest median home price in all of Washington County. This data is a bit skewed because Santa Clara also had the fewest amount of listings in the county. 84770 and 84790 have so much more inventory but they also both have the most exclusive neighborhoods, Entrada and Stone Cliff. I love analyzing numbers and the market, but when the data is broken down this far, it doesn't always reflect the most honest, accurate information.
On a side note, the two highest priced home sales in the county were actually in Washington, two were in Entrada and one in The Ledges community. Here are the top five highest priced homes that sold in Washington County for 2018. 
Thank you so much for reading and if you liked this article, I would love for you to share it on Facebook!
I hope your 2019 is off to a great start and if the winter seems to be dragging on forever, just remember, Spring is only 45 days away!