Digital Marketing Ideas For Real Estate Agents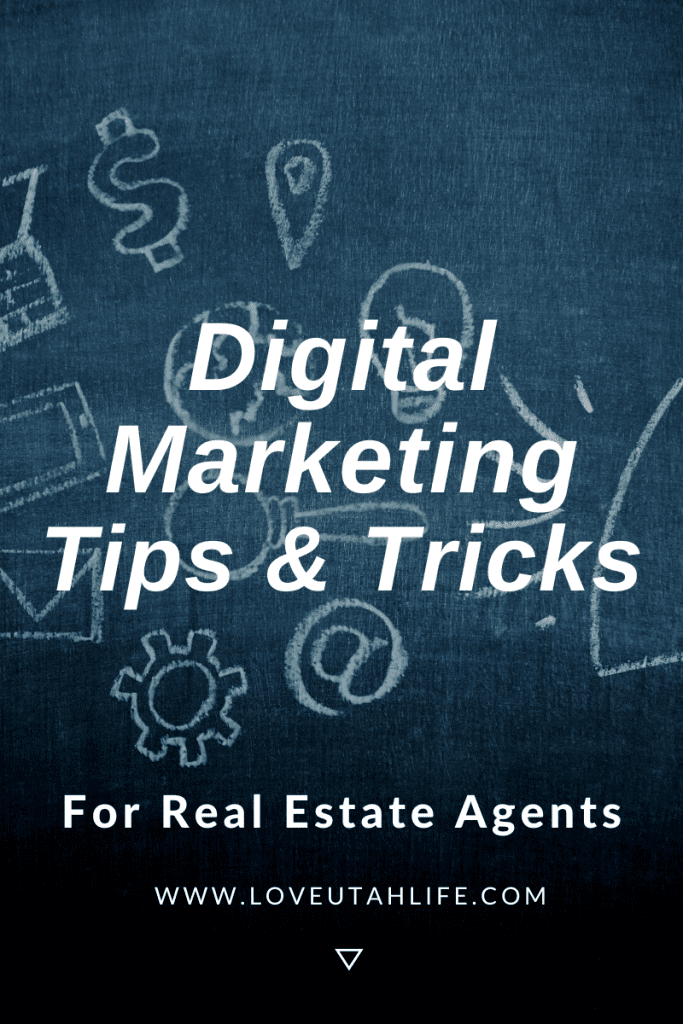 Digital Marketing Ideas For Real Estate Agents Tips & Tricks
I know the struggle of marketing for real estate agents! I've been in the industry full time as an agent for 7 years and a digital marketing assistant for a Utah top producing agent for almost a year. Here are some digital marketing ideas for real estate agents in order to establish yourself as an industry expert in the real estate field.
Everyone who operates as a business professional must implement a marketing strategy to some degree. In the past, marketing involved mailing postcards, creating paper flyers for yard signs, billboards, newspaper ads, radio ads…marketing tactics still used to this day but with the rise of the internet, "digital marketing" was born and took marketing methods to a whole new level. Here's a quick guide in order to make sure you are marketing yourself adequately in the real estate industry.
---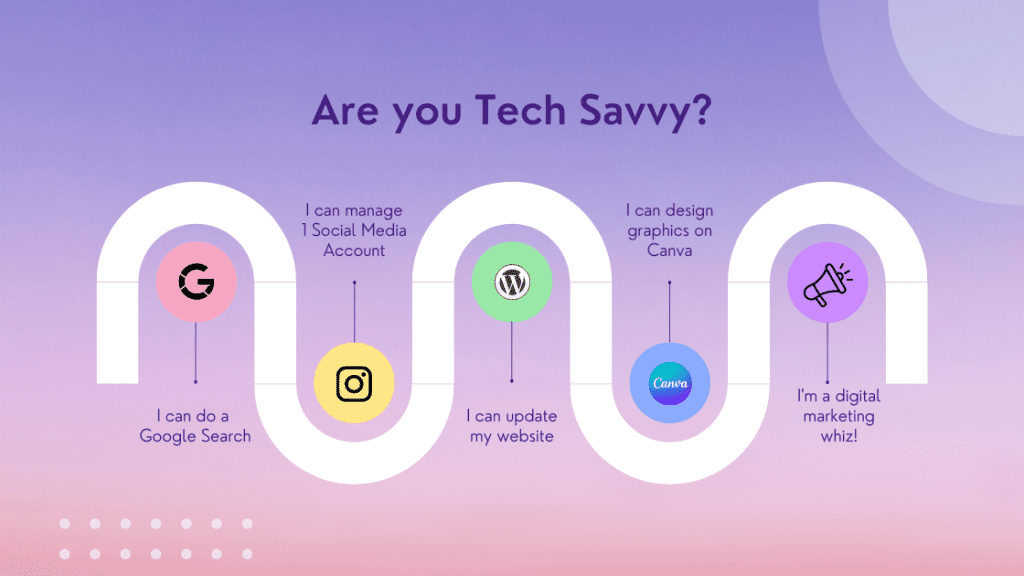 1. Measure Your Tech & Marketing Savviness
How savvy are you on a scale of 1-5 in regards to technology and marketing? If you consider yourself a 1, I don't recommend even spending the time to read this post. Hire yourself a digital marketing assistant NOW. Here are a few options but a quick Google search for "Real Estate Digital Marketing Virtual Assistant" will offer many more resources. (If you don't know how to do a Google search…contact me.)
Digital Marketing Virtual Assistants will do the most basic tasks like daily social media posts or you can hire them to create an entire marketing plan for your business. They work remotely and usually cost anywhere from minimum wage to $35/hour. Think about your favorite social media accounts/influencers that you follow. Any category not just real estate. Chances are if they have a generous following, a virtual assistant is creating a large amount of their content for them.
On the other hand, if you have a lot of money and zero marketing/tech skillset, it's not a bad idea to hire a full time Marketing Manager. This will typically be a salary position but ideally he or she will be able to run a brilliant marketing strategy for you independently so you can focus on real estate and anything that's more important to you than marketing. 🙂
---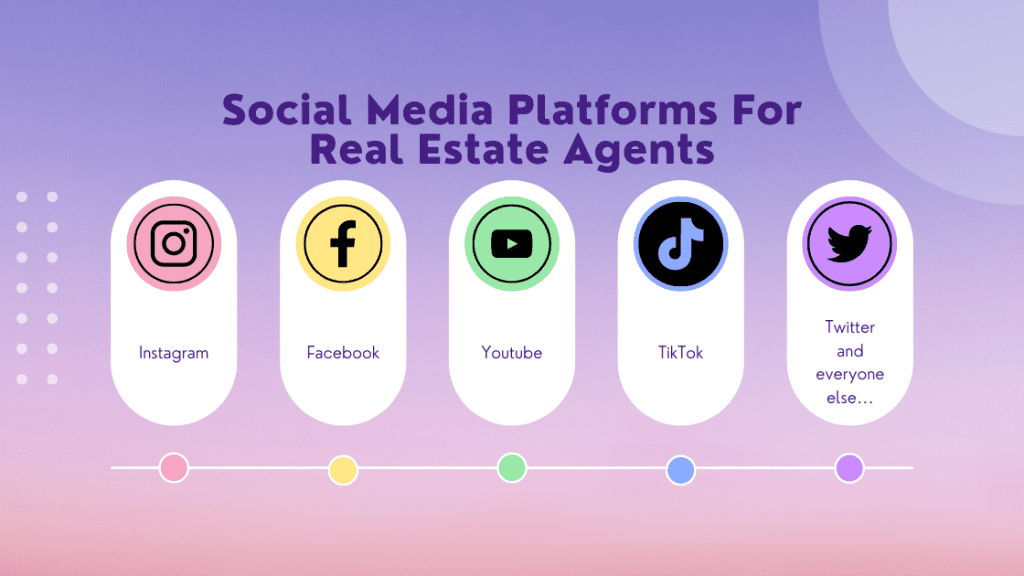 2. Real Estate Social Media Platforms
If you consider yourself semi-marketing and tech savvy and already have your social media presence established, here are a few pointers to make sure you are on the right marketing path.
*You can niche in any social media platform you prefer, but Instagram, Youtube, and Facebook are the largest social media platforms i.e. the largest market pool. However, Pinterest, Tiktok, Linkedin, Snapchat, Twitter, etc., are all extremely powerful lead generating systems! Setup an account on a minimum of two of these accounts and post as consistently as possible, at least twice a week but preferably once a day.
*When a potential lead lands on your social media accounts, first impressions are crucial! Make sure you've got a great picture and your bio information clearly describes your purpose. You can take a look at these amazing accounts and simply emulate them. You don't need to recreate the wheel. Find an influencer or agent you respect and replicate what they've done. Obviously change up a few features and make it your own.
Side note: Even if you do an ok job at posting on social media, it's still not a terrible idea to hire a part-time virtual assistant to help you stay consistent with posting, email blasts, newsletters, and possibly video content.
---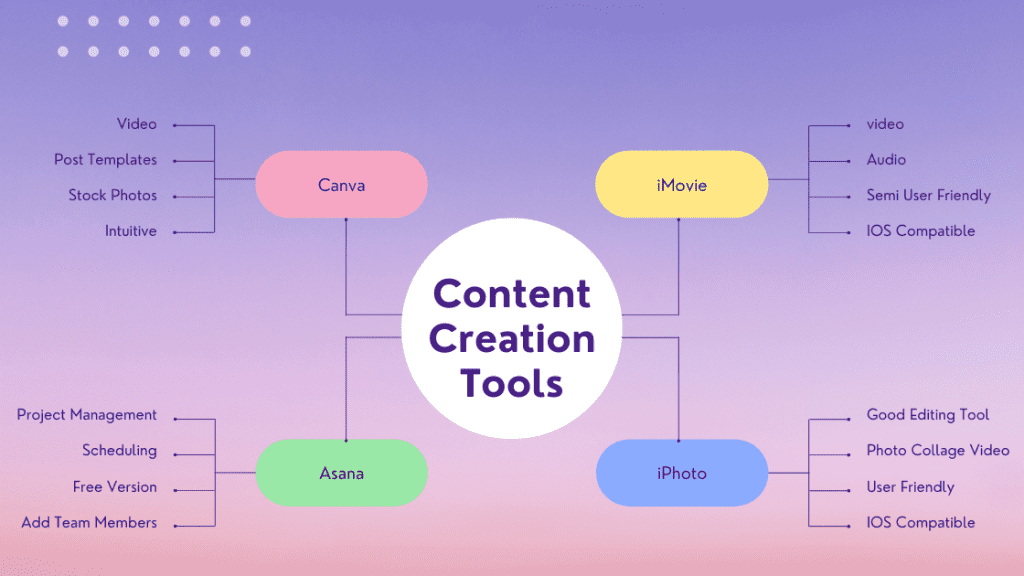 3. Best Content Creation Tools For Real Estate Agents
I am BIG on simplifying! The only tools I use for content creation are…
Canva – This tool does pretty much everything I've ever needed for content creation. I know Adobe is WAY more powerful and it's a goal of mine to learn it one day but so far I've been super happy with Canva and highly recommend everyone downloading it. The desktop web app is much easier to use but I will quickly create a graphic on my phone in a pinch.
iMovie – If I need to adjust speeds throughout a video I will upload it in iMovie, cut and edit speeds, then edit again in Canva if I need to. Hopefully Canva will come out with this feature soon because iMovie is not the most intuitive program.
iPhoto – I will create an album in iPhoto of listings and create a collage slideshow. But then I always upload to Canva and add an intro slide and exit slide.
Asana – I love Asana for planning out social media ideas. I was using Google Calendar for a hot second but Asana keeps everything organized so much better. It's a great project management tool and I've even used it for transaction management in the past.
---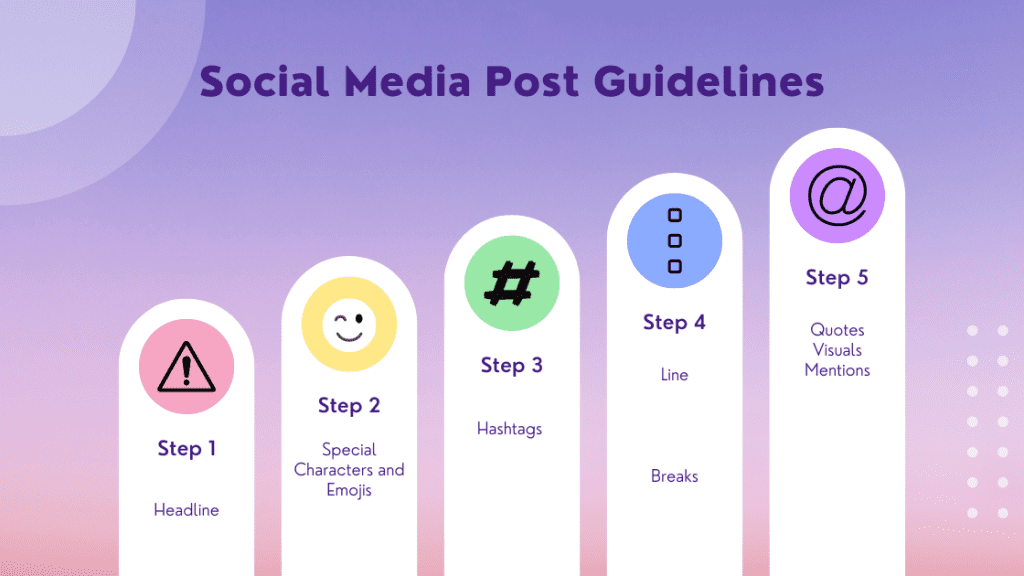 4. Digital Marketing Social Media Posting Guidelines
There is art in writing and haven't you ever noticed how certain influencers have the ability to pull you in by the structure of their captions? If you put a little bit of thought behind how you structure your captions on your posts, your engagement is sure to increase. Read THIS article for a quick course of Social Media Posts and Captions 101.
Always make sure your posts and biography have clear direction for potential clients to either call you, send you a message, or visit your website.
---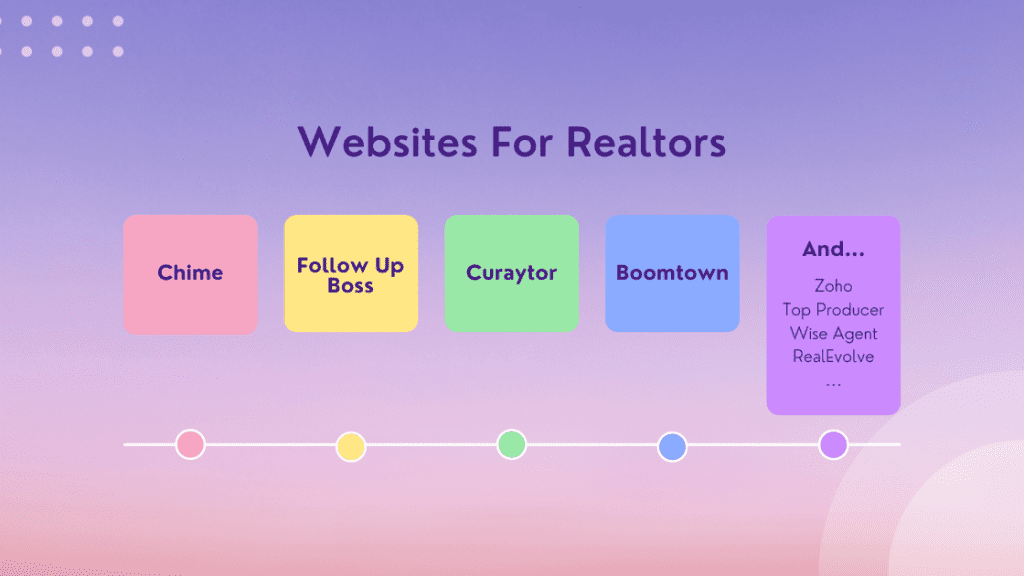 5. Best Website Platforms For Real Estate Agents
The last thing I'm going to go over are websites. There are 1000's of website options out there for realtors. I really like Chime, Boomtown, Curaytor, and Follow Up Boss. I've worked with quite a few and the most important aspects you need to look for in a website platform are…
MLS Search Function
CRM (Customer Relationship Management) Tool
Blog
Mobile Optimized (make sure your site looks good on all mobile devices as well as desktops/laptops.)
Most of the web platforms for real estate have easy to use templates but for an extra fee you can hire a designer to optimize your site and really make it stand out. Also those virtual assistants I talked about earlier might be able to help you with your website depending on their skillset.
Now You're a Pro in Real Estate Digital Marketing!
Haha well probably not yet…but thanks for reading my quick post! You should be ready to hit the ground running and market your business like a boss! Actually, this is just a tip of the iceberg in regards to digital marketing. The sky is the limit! Work on establishing yourself online by spending 10-15 minutes a day on either your social media accounts or website and you will eventually (or quickly) see an increase in your name recognition! And if you just hate spending the time doing the marketing aspect of business, hire a virtual assistant or marketing manager!