St. George Rental Progress!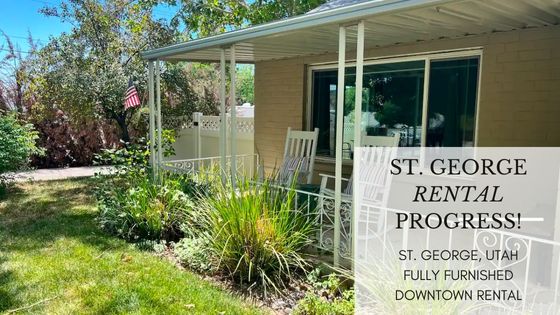 Our St. George, Utah Downtown Cottage is almost ready!
We've been working hard on getting our downtown St. George rental ready for new guests and wanted to share some progress pics! We had tenants in our house for almost a year so there was a lot of clean up needed but it's coming together and we're so excited for future guests to enjoy our cute home.
two bedroom two bathroom Main Street St. George Rental
There's a lot that goes into getting a fully-furnished rental ready for guests. We bought all new furniture (although there are a few family heirloom pieces throughout our home...) and all new fully stocked kitchen gear. We live about 90 minutes away from St. George so we are planning on spending the next three weekends at our home getting it ready for our first guests.
Our last tenants took decent care of the home but there's a lot of yard work needed and the walls needed a fresh coat of paint. We hired a painting crew to redo the inside paint, opting for a darker wall color this time. White walls just do not hold up well in small houses. We went with Agreeable Gray but diluted 50%. I will post some pictures of the new walls next week.
Here are some pictures of the bedrooms and bathrooms mostly finished with decor, as well as the laundry and a few random kitchen and dining room shots. I'd still like to get some greenery and organic touches. Possibly some additional wall art. But I also like a clean, clutter free atmosphere as well.
Southern Utah Fully Furnished Rental
If you have any tips and tricks for getting a fully furnished rental ready, I'd love to hear them! Also, if you are looking for a place to stay in St. George, Utah, check out the Airbnb link below. We offer a monthly discount and no taxes are charged on stays over 29 days so it's a great option for a Southern Utah vacation! Fall is coming up and it is absolutely magical in St. George during the fall months, especially on our street with the huge, historic trees! Thanks for checking out our progress and stay tuned for the paint updates and more decor updates!