St. George, Utah Real Estate Market: February 2019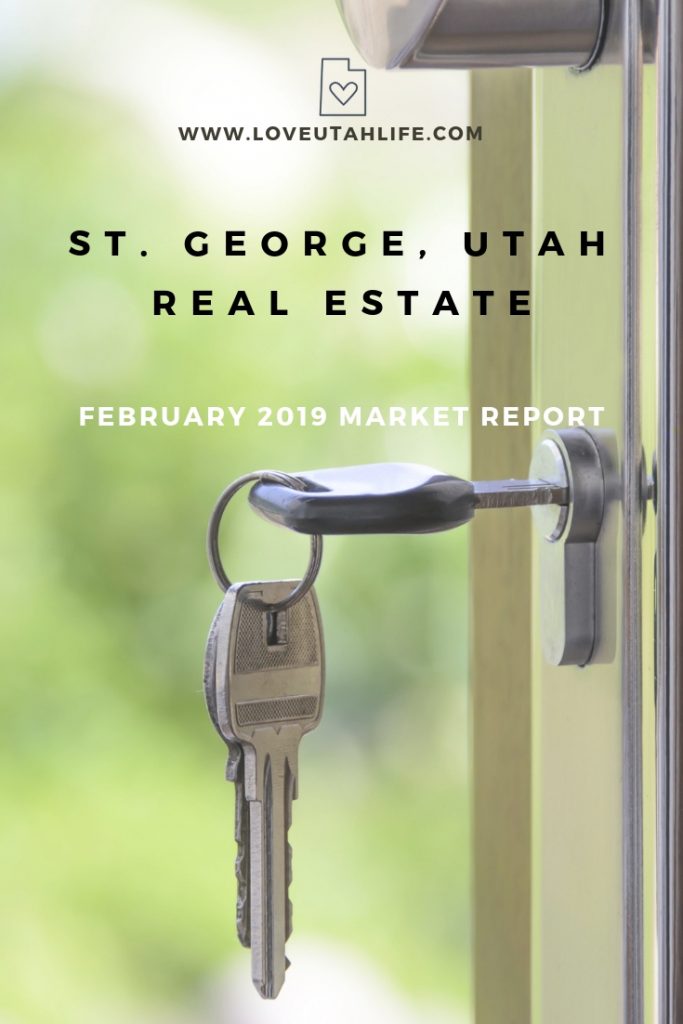 Real Estate Monthly Market Recap
I'm a little bit behind because March has been so busy! However, I wanted to go over February's St. George, Utah Real Estate numbers and figures with my readers before April arrives. Just in case you are wondering what January of 2019 was like for real estate, read my blog post here.
Everyone I work with asks me what I think is going to happen with the real estate market and I do my best to provide accurate information based on these figures. I think something everyone needs to remember is it's been a seller's market for a few years now and it still is in certain price ranges and locations but it seems to be shifting to a buyer's market in other price ranges.
What homes are under contract right now in St. George, Utah?
This home popped up on the market and even though it's in a little bit slow moving price range, it went under contract within 24 hours because it's ADORABLE and also in a desirable location. But even high end homes are moving fast, figuratively speaking. Click here to see all the homes over a million dollars that are currently under contract.
---
Speaking of houses moving fast, this house is mine and my husband's dream house…and it went under contract within 7 days…and it's $988,000! Check out the pool and views…I love that it looks out over our beautiful city. I think I would sit in that pool every night and watch the sunset if I could.
St. George Parade of Homes & Presidents Day Weekend 2019
February is a big time in real estate for St. George, Utah. The Parade of Homes happens and the city comes to life. President's Day weekend is probably one of the top three busiest weekends of the year in Washington County. I actually heard rumors there was over 30,000 people in town…needless to say the streets were slightly crowded. We usually don't even try to go out that weekend (I couldn't because I was working every night till 7:00) but if you ever plan on coming to St. George for President's Day weekend, make travel plans at least six months in advance. Leave a comment if you were in town and tell me about your experience…I'd love to hear your perspective on the hustle and bustle. Most locals complain about it but it's so good for our economy so it doesn't bother us too bad. 🙂
I was working in Stone Cliff all ten days of "The Parade" and it was really busy in what is normally a very peaceful, quiet subdivision. I met so many new faces, most of them from Northern Utah. A lot of them are second home owners looking to upgrade or looking for something different. They all loved this house I was sitting in during the parade…it's absolutely beautiful and I think it's going to sell soon so you should come take a tour while we are holding it open!
February 2019 Real Estate Market Report
The real estate numbers for February were almost as crazy as the traffic! Listings jumped to 1,644, up from January's amount of 1,439 by over 200 and up 17.4% from 2018.
The median sales price was up 4.3% from last January.
However total home sales were down by 8.1% from last year. Click the button below for a PDF version of the full report.
There is so much information with all of the stats and figures…if you are looking to buy or sell right now, my best advice is to choose a good real estate agent who will run comps and tell you similar properties in the area that have sold recently and give you their professional opinion.
Hurricane Valley Housing Market is HOT!
One thing that is super crazy to me is that the Hurricane Valley seems to be the hottest market in the area right now! I've been working with a few clients who want to buy out there and it's REALLY hard to score a property quick enough! I'm checking the hot sheet every fifteen minutes looking for new listings…if you'd like me to be checking on new listings for you, give me a call or text or email ANY TIME.
What are your thoughts on the market? Have you got some inside info or a crystal ball we could all look into and see the future? If you'd like to share any thing with the rest of the world leave a comment below! And if you liked this article and found the info useful, I'd love for you to share away on social media.
Thanks so much for reading,