St. George Utah Restaurants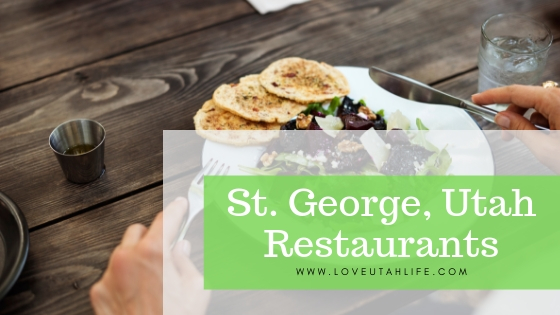 I don't know anyone who doesn't love to go out to eat. Food has brought humans together since the dawn of man and no matter the occasion or time of year, the restaurant scene is one of the most popular forms of entertainment in any city in the world. It's no different for the popularity of St. George, Utah restaurants...as real estate agents, everyone we talk to wants to know where are the best places to eat. Not only have I lived in St. George for over 20 years, but my husband and I use to be restaurant owners ourselves for over a decade. I'm going to give you my perspective on the best places to eat in St. George, Utah...I'd love to hear your feedback in the comments below!
The Painted Pony has been in business since I've been in town I believe...I tried to find the exact date on their website and couldn't find the specific year but I know they've been open a long time...in fact they closed this last November for some renovations. Even with once outdated decor (which has now been freshened up) they still rank #1 on Tripadvisor for St. George, Utah Restaurants.
The Painted Pony is located in Ancestor Square which is the coolest commercial center in town. I think the location in the heart of the city plays a huge role in it's popularity (3 of our favorite eating spots are in Ancestor Square). There is a beautiful outdoor patio that is just dreamy in nice weather perfect for enjoying a nice drink and meal.
Everything on the menu is delicious but we do like to bring our own wine in (for a corkage fee). Also, parking can be a little complex in Ancestor Square so be prepared if it's a busy weekend. And I would highly recommend a reservation at The Painted Pony.
George's Corner is relatively new to the St. George foodie scene but ever since they opened they've been popular! They will have been open for 7 years this July (2019) and they aren't slowing down any time soon.
George's is open for breakfast, lunch, and dinner (which is awesome for patrons!) and has a cozy pub atmosphere. Also located in Ancestor Square right on the corner of Main Street and The Boulevard; everyone we take to George's is immediately impressed with the setting. It's hard not to love the aged brick walls and worn wood floors and bar. I especially love the iconic history of the location.
I love going to George's for beer and appetizers, but they have yummy burgers, salads, and entrees as well. Their shoe string french fries are my favorite!
George's gets really busy at dinner so get there early. There is live music several nights a week. If there is a place to see and be seen in St. George, I would say George's is it.
The owners of 700 Degree Pizza took St. George pizza to another level. They take GREAT pride in their holy craft. Yes, I love pizza and consider great pizza a religious experience. I lived in Connecticut as a nanny for six months when I was younger and was taught about the religion of good pizza by my family I worked for. They took me around to the best of the best NYC and CT pizza places and I've been a bit of a pizza fan ever since.
Not only does 700 Degree Pizza have the yummiest pizza in town, but their wings and salads are amazing as well. And they have a great beer selection. I believe they might be the only pizza place in the greater St. George area that serves beer as well. Correct me if I'm wrong in the comments below...
700 Degree has indoor and outdoor seating and is located close to the Sunset Stadium Movie Theatres.
I'll never forget my first trip to Ah'sya. My husband's sister and brother in law brought us here and I was so skeptical...until we walked in the door and we were greeted with the most amazingly delicious smell I had ever smelt! I can't even describe it but it literally made my mouth water. This was back in their first location behind Texas Roadhouse off of Red Cliffs Drive. They have since moved to the west side of town off of Sunset (across from 700 Degree Pizza) in Phoenix Plaza.
I don't have a lot of experience with Vietnamese food but I love how fresh Ah'sya is and not greasy at all. I love their soups and their rice noodle bowls with egg rolls. The owners work so hard and you can tell they take a lot of pride in their food.
The atmosphere is always clean and there's quite a bit of seating. Nothing exciting as far as decor goes but everyone loves the owners and the food.
I have so many favorite places to eat and so little time...be sure to check out these great establishments as well!
"Upscale-casual option offering New American fare, large windows & a terrace with picturesque views."
The food and service have always been outstanding but we love to go for the outdoor patio and the view. Check it out...you won't be disappointed.
"Family-owned Italian bistro serving a traditional menu, beer & wine in a warm, brick-accented space"
I NEVER complain when we get to go to Capp's for lunch or dinner, and I always order the Chicken Gorgonzola Pasta. I've never had a bad meal here and the location is so fun on Tabernacle next to the Electric Theater.
"Family-friendly cafe with a globally inspired menu & options for paleo, vegan & gluten-free diets."
Twisted Noodle Cafe is more a quick service type restaurant located in the Main Street Plaza downtown. The food is sooooo yummy and they claim it is healthy and good for you too, which is hard to believe because it's seriously so tasty!
"Cheery Mexican eatery dishing out traditional street grub in a cozy, art-adorned space."
We love Angelica's...even more so because it's only a couple blocks away from our house. The new owners (who also happen to be my cousins) did a fantastic job remodeling the building. The food is super yummy and I love the new outdoor patio!
"Warmly decorated venue serving Thai classics, unique rolls & all-you-can-eat sushi in relaxed digs."
Benja's has a great atmosphere, the best Pad Thai in town, and killer sushi. Oh and her soups are so delicious too! Plus it's in Ancestor Square (original location) or the new location off of Red Cliffs Drive has a great atmosphere as well.
I know I am! I love that we have so many great eating options in St. George and that so many vendors have found success in our little community! If I've left your favorite restaurant off my list, please leave your own list in the comments below!
As always thanks for reading...