How To Replace Windows On An Old House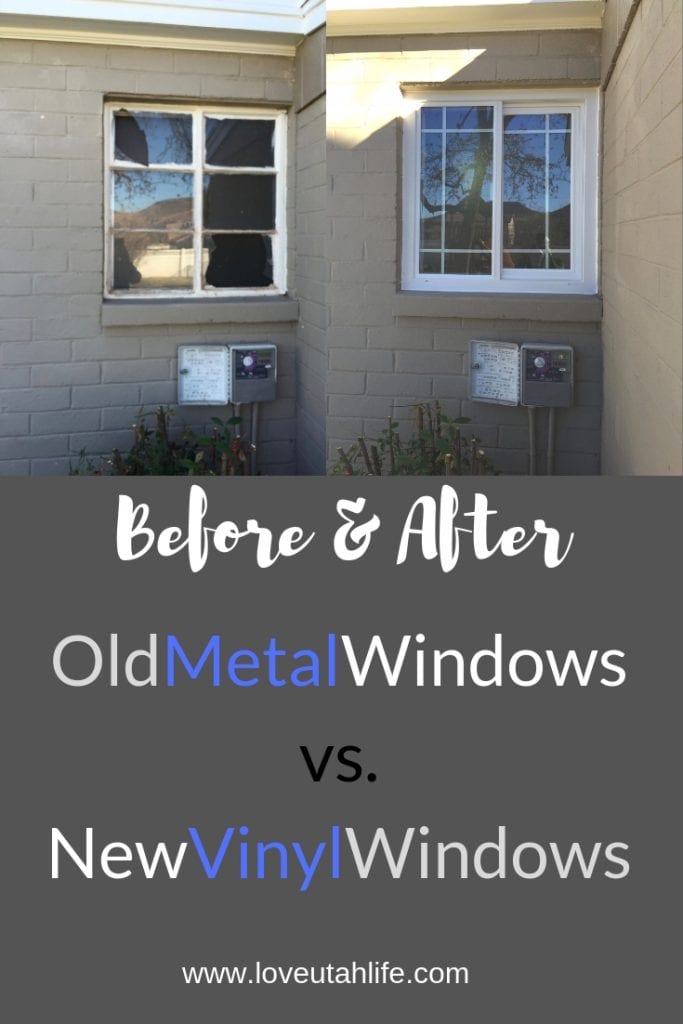 Are you thinking about replacing your old windows?
My husband and I were in your shoes a little over three years ago. We looked online for resources and there weren't very many articles or information on this topic. So we had to learn as we went which isn't a lot of fun. I wanted to do a post on our new windows, even though I didn't take a lot of pictures or video as we went. I would have loved to been able to do a complete post on how to replace windows on an old house, but I think even just posting what our before and after looks like will be helpful! If you have any questions please leave a comment and I will do my best to answer them!
Here's a before and after picture of our house...old windows versus new! Here's a post I did about our 1950's cottage explaining what we've done so far and what else we'd like to do...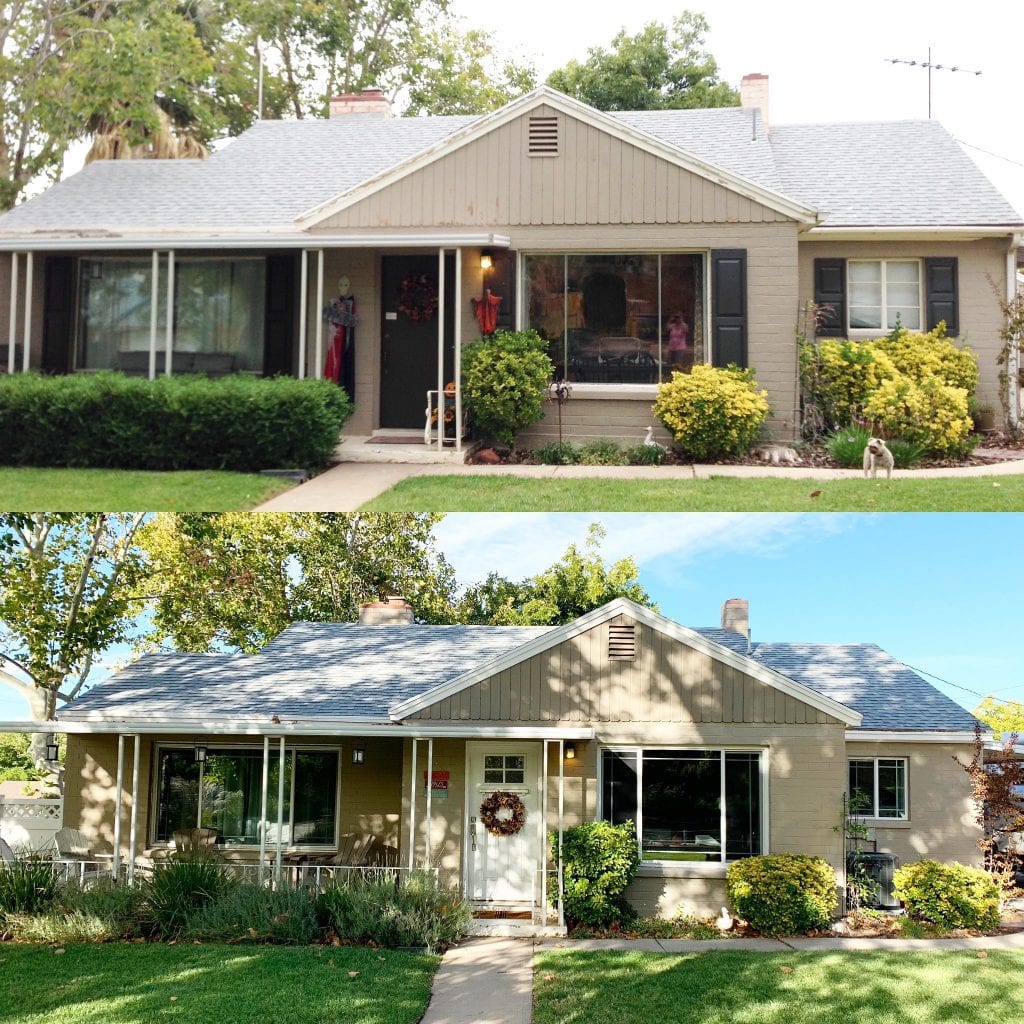 Why we decided to replace our windows
Our house was built in 1950 and the exterior walls are solid brick with plaster interior walls. I must say, I miss 2x4 wood framing. I am not a fan of our brick walls for several reasons, mostly being insulation factors. And it is really difficult to hang anything on plaster and brick walls, but that's an entirely different story. Our original windows were a solid metal frame, I believe steel or iron, with wood trim and single pane glass. At one time they were probably charming but through the years they deteriorated so bad we couldn't see the sense in trying to salvage them. A previous owner had also installed a single pane aluminum window on the inside of the original windows and it was difficult to open most of them and they just looked ugly.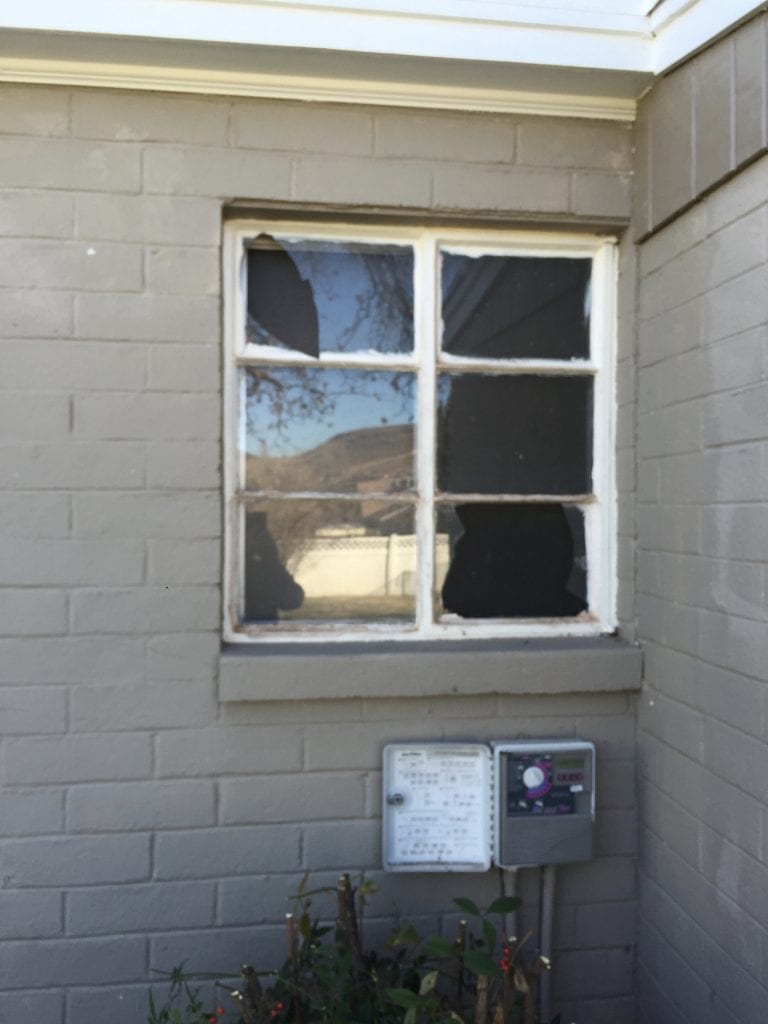 We decided to go with a double pane white vinyl window with Prairie trim detail from Burton Lumber. Here's a picture of our beautiful new guest bathroom window (sorry for the ugly sprinkler box underneath it...)
I would make sure to call around to several window supply companies in your area and get prices from at least 3 different companies.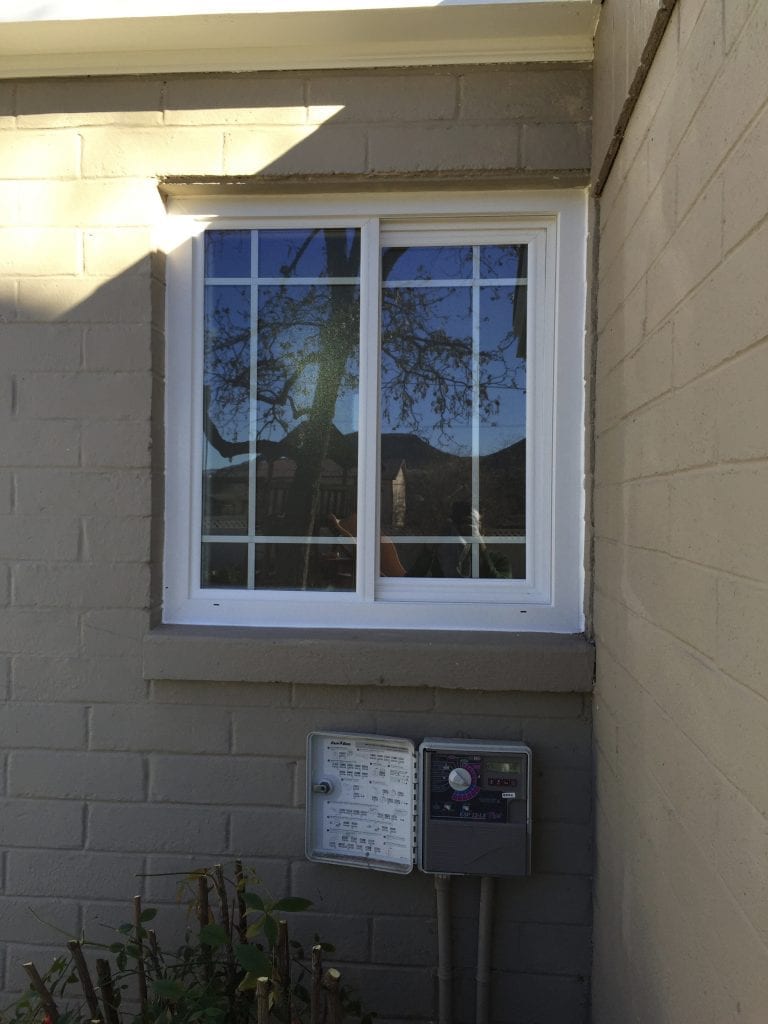 Before & After's of our Window Replacement
These are some pics I took as we were in the depths of renovation as well as some new pics with our windows all finished off. After it was all said and done we ended up with three types of windows- a full frame renovation, a flush fin window installation, and a smaller fin/frame which got ordered by mistake and we didn't want to wait to return them so we made it work. By keeping the smaller fin/frame we had to buy exterior PVC trim to cover the frame so that increased the cost a bit.
Tools You Will Need To Replace Your Old Windows
You will want to leave the original metal frames in the brick. Do not try to rip out the entire window. We did that on the first window we did, our laundry room, and it was EXTREMELY difficult. We learned it was better to leave the frame and do a retrofitted/flush fin window. We bought one window as a trial test project and it was good because we knew how to proceed from that point on out.
Tools & Supplies For Window Replacement
This is a quick video to see what the flush fin windows look like when you install them-thank you Element Doors and Windows for this video. We actually only ended up with one flush fin window as I talked about up above but I like the looks of the flush fin trim the best. This house was a lot easier than ours too because the old windows weren't as old as ours were...
Tips & Tricks For Replacing Your Windows
Buy LOTS of spray insulation. Once you get the window installed, spray in between the wall and window frame with the expanding foam insulation.
 If possible, do not order custom sized windows. I believe windows come in either 1" or 1/2" increments and it should be really easy to find a pre-built window. It's almost half the cost to buy pre-built versus custom sizes. We were able to shimmy the windows in place and then we had to trim out the inside and outside with white PVC trim.
PVC trim is more expensive but so much better than MDF trim...we got it at Home Depot. Use a Miter Saw to cut it.
Caulk like a your life depends on it. Make sure to buy paintable caulk too.
Measure twice (or 3,4,5&6 times) and order once.
We did a really high R value rating on our glass, and I don't really care for it. We didn't notice a difference in our cooling bill during the summer, and it's basically a tinted window, which I don't think looks great. We paid extra for the white prairie trim inside the glass and with the tint, it doesn't stand out as well as I would have liked.
Just do a little bit at a time. We would work on a few windows every weekend. It's a messy job but once you get the window in and the foam sprayed in, it's basically air tight. The worst part is removing the old windows.
Lay a tarp down when you remove the glass to catch any broken shards.
Freedom is the open window through which pours the sunlight of the human spirit and human dignity.          ~Herbert Hoover~
I love our new windows and do not regret the money spent. It's hard to say how much we spent but I would guess somewhere around $10-$15k between all the trim and tools needed. I think we could have gotten that cost down a lot if we had used pre-built windows instead of custom ordered sizes. Also, that price includes two sliding glass doors. I am going to do another post on how we created a patio on our side yard and how we put an 8' sliding glass patio door where a window was.
It's so nice being able to open our windows now and let a nice breeze blow through the house. Not to mention it completely transformed the appearance inside and outside the house.
If you have any questions, please leave a comment and I will do my best to answer them! Don't let old windows stop you from buying a new house. We lived with our old windows for about 8 years before we could afford to replace them. But it was so worth the wait.
As always, thanks for reading, and if you liked this article, please share on Facebook or Pinterest!