Our Hope Hill Cottage Remodel in St. George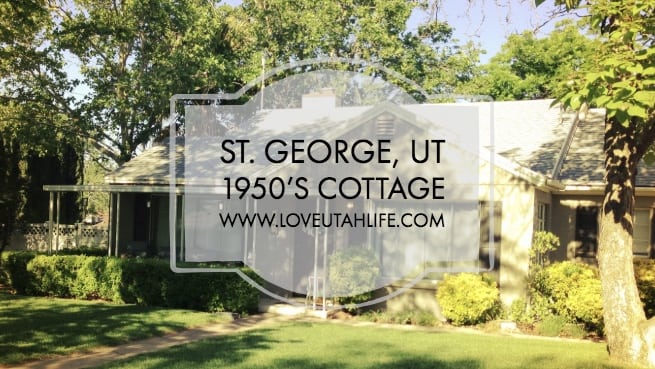 The History of our Main Street Cottage
Our cute little house was built in 1950 by the Judd family. It was originally a 2 bedroom, 1 bathroom home but a small bathroom was added on to the back of the home, making it a "roomy" 2 bed 2 bath. It measures out right around 1300 square feet so the rooms are fairly spacious for the size of the house.
The exterior walls are solid brick and it has a modest asphalt roof. There is a massive driveway down the north side of the property to the little brick one car garage behind the house. I love all the concrete work around the house...you can tell they had to pour the concrete in small batches, probably mixing it by hand in buckets. At the back of the driveway are some kids handprints from one of the earlier owners.
We have four huge trees in our front yard-two locusts, mulberry, and Catalpa; three massive trees in our backyard-two sycamores and a thriving pecan; and three pomegranate bushes. My husband has a small garden in the backyard as well.
1950's Home DIY Remodel
When we bought the house back in 2007 there was a partial chainlink fence around the entire lot. We immediately put up a white vinyl fence that has been fabulous for privacy and curb appeal.
Four years ago we were able to replace all the windows with double insulated white vinyl windows, which was a HUGE project and I am planning on describing in detail in another blog post. We also replaced the front door so that we could let some light into the entryway. The first picture in the slideshow above shows the original door, which I actually loved because it was SOLID wood and the handle was the original and so unique. But our entryway is so dark and the door had a huge gap at the bottom that insects and cold air were always getting through.
That's one thing I've learned with owning an old home is learning to let go of original features if they aren't functional. I read once NEVER to rip out antique wood windows and to ALWAYS refurbish them...that just was not an option for us and neither was keeping the original door. I'd really love to be able to do a wood door like this someday...
So far we've been able to make the following updates to our home:
New granite kitchen countertops and "newish" kitchen appliances
New windows throughout the entire house (white vinyl with prairie style panels)
New entryway and laundry room doors (Thank you Burton Lumber!)
Created a side yard patio with pea gravel and string lights
Added an 8' sliding door in the our living room to the side yard patio
Removed the boxwood hedge around the front porch and planted lavender, grassy Iris', and a climbing rose on the corner
Installed a brand new Train HVAC system with S&S Mechanical  (more details about this later. Our old system is an entire story on it's own!)
New ceiling fans and flush mount light fixtures (I can't wait to replace the kitchen chandelier but am waiting till I know for sure what I want)
New main bathroom vanity and lighting
All new paint (Sherwin Williams Alabaster White)
New kitchen hardware and hinges from Amazon (cheap but great quality!)
We ripped out a HUGE Oleander bush and palm tree in our backyard probably 4-5 years ago
Added some exterior outlets so we can turn our patio string lights on with the flip of a switch which has been so nice!
And we want to make these updates soon:
New flooring throughout entire home (either wood look tile or vinyl plank...)
New tile in main bath shower
Remodel kitchen-tear down wall between kitchen and living area, new cabinets, new appliances (plumb for gas stove hopefully)
New master bathroom addition...or possibly an entirely new master suite addition on the back of the house...but then we'd have to tear down one of the old sycamore trees and I'm not sure I have it in me
Redo the landscaping in order to cut back on watering costs...we have TONS of grass and our water bill is outrageous in the summer time
Redo the fireplace so that we have a cozy, functioning, efficient fireplace in the winter time
Replace the aluminum patio awnings
Add more driveway space in the front so that we can park both cars in the driveway (we will probably have to cut down the Catalpa tree to do this but it is nearing the end of it's life anway...)
Poor a nice concrete patio area in the backyard
Metal roof
Rework the exterior with new siding or a stucco/brick finish
Replace the outdoor lighting
You can check out my Cottage Love and Dreamy Outdoor Ideas Pinterest boards to get a feel of where I would like this sweet little house to go...
Every project we've begun on this house started with a Google search and I was surprised how hard it was to find the information I needed. I told myself one day I would blog about our projects in the hopes that I can help someone else. Let me know if you ever have any questions and I will do my best to guide you along the crazy remodeling process!
Thanks so much for reading!