Upper Provo River Falls – Mirror Lake Highway Day Trip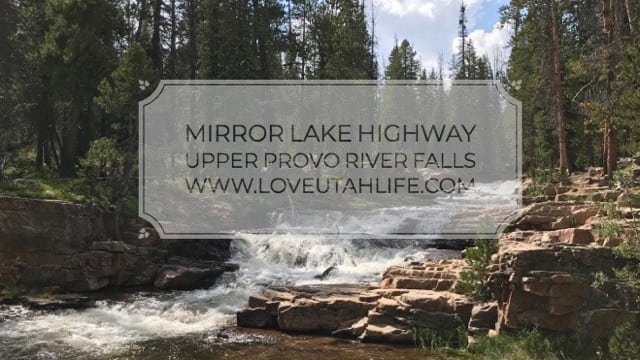 While my family was camping in Northern Utah we decided to take a day trip up the Mirror Lake Highway to do some fishing at Mirror Lake. As I was researching the drive, I saw that there was a scenic stop at the Upper Provo River Falls. I knew we had to stop here and now that we've been, I can see that this could easily be worth the drive alone. We only hiked a small distance but there were people coming down from much further up the river with floating tubes and swimming gear which would have been so much fun if we had planned better. I guess we will have to go back!
From Kamas, Utah, the Falls are 23.8 miles and a very easy 32 minute drive. Heading northeast up the mountain, the turnoff will be on your lefthand side. We went to Mirror Lake first and stopped at the Provo River Falls on the way back to our camp in Coalville.
The Mirror Lake Highway Scenic Drive
The Mirror Lake Highway Scenic Drive is a drop dead gorgeous route and an easy drive, which is saying a lot for myself because I have a "slight" fear of scary roads. And by slight I mean I am terrified of driving up mountains if I don't know the roads. I'm so happy this drive was NOT terrifying because the scenery is stunning and I could keep my eyes open most of the trip! There's one spot right at the very top before you drop down to the descent to Mirror Lake that is a bit scary but it only took us five minutes to get past it each direction and my husband drove slow and only took his eyes off the road a few times...so it was good! Haha.
We went up the highway on a Thursday and traffic was light so it was easy to get in and out of the parking lot, but I read that it gets very busy on the weekends. I've always wanted to stop at Bridal Veil Falls in Provo Canyon, but the traffic on that highway scares me to death and I can't imagine trying to get in and out of there without having a heart attack. This road was not nearly as busy and a breeze to access. Hopefully someday we can visit Bridal Veil Falls as well!
Check out my video I put together on iMovie and let me know if you've been to the Upper Provo River Falls! I'll be writing more about our camping trip to Northern Utah (a trip to the Uinta's were on our bucket list!).
Thanks so much for reading,