Utah Country Living: Life in Enterprise
I asked my mom, Mary Russell at Savvy Grams, to write a guest article for my blog on what's its like living in the rural town of Enterprise, Utah. Enterprise offers lower cost of living than St. George but it's a quick commute. Houses in Enterprise also qualify for the USDA Rural Housing loan. Read her take on Utah country living and if you live in Enterprise, Utah, I'd love to hear what you love or don't love in the comments below!
The life of a city girl living in the country…
I have lived a country lifestyle twice in my lifetime. I guess I started out as a "city girl", being born in Los Angeles but in my infancy moving to Las Vegas and grew up there till I moved away after my marriage. We started out in Anchorage, Alaska; a dream my husband wished to return to but later decided to move down closer to my parents for the sole reason that our kids would grow up knowing their grandparents. It was a wise choice.
My kids grew up in a very small town in rural Nevada so I am very familiar with the pros and cons of country versus city life as a child growing up. Two generations to observe.
After I remarried, we moved to various locations and eventually ended up in Enterprise, Utah; which, interestingly, is very close to the town my kids grew up in, just over the state line almost, and with almost identical life experiences. Now, of course, I am viewing it from an "empty nester's" experience which is completely different than having my children a part of the country scene. Having friends, and having taught in the elementary school here, I still see what it's like for kids growing up in a small town, namely Enterprise and feel like I am able to show the whole spectrum of county life from my elderly age to the youngest child's experience.
All About Enterprise…
Enterprise is a "bedroom community" of St George, only 40 miles to the north on Highway 18. It offers the benefit of being able to live in a small, country style town and still work in the busier city. Many who live here commute to St. George daily. I am one who commutes and I love the commute. Almost immediately, you start climbing up the summit and find yourself in a beautiful forest of cedar and pines. The drive to St. George is dotted with a few little towns as you drop down out of the high forest range and I find it an very interesting drive, seeing the way the small towns are changing and improving their appearance over time.
The little town of Veyo has become a stop along the way for many travelers who find the "famous" Pie Store a good place to stop and stretch and eat a piece of pie. There isn't much in Veyo but it's appearance is improving as you slow down to the 40 MPH speed limit and see new businesses popping up. A Slice of Veyo, the new pizza parlor is emerging as a first class restaurant. Veyo is sort of the middle between St George and Enterprise and I felt like I should mention this little town as it is very much a part of my Enterprise experience, even though I rarely stop, unless my gas tank is low and I need to fill up to make it either home or to St George. (Don't forget about the world famous Veyo Pool mom!)
Why we moved to Enterprise, Utah
My husbands tells everyone that what influenced him to purchase our place in Enterprise are the huge shade trees. He was sold the minute he saw the enormous trees in our backyard. This brings up a big issue between the difference of living in St George and Enterprise, other than the obvious, the size and population of the two cities. The temperature in Enterprise is so much cooler in the summer than St. George. For a long time, we didn't even have any air conditioning. We finally succumbed and installed a window AC for the short duration when our temperatures could also soar into triple digits.
---
You rarely hear the sound of a police or fire engine siren, only songbirds singing to one another and the beautiful sound of silence…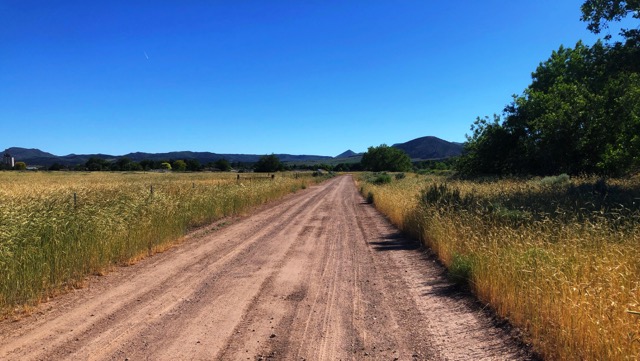 ---
The mornings and evenings in Enterprise are so ideal it just begs one to sit out and lap up the cool evening air in the summer months. You rarely hear the sound of a police or fire engine siren, only songbirds singing to one another and the beautiful sound of silence. We have chickens and pigeons so we also here them clucking and cooing. We often hear children's voices come and go as they ride bikes up the road in front of our house. These are the sounds of life one hears in a country town. No ongoing sounds of busy traffic or sirens one in the city becomes used to. Only the softer sounds of the country.
We like to walk our dog down our street that soon becomes a dirt lane with nothing but acres of farmland and tall grasses to see. We always feel safe out walking, even far onto these dirt, country roads.
Safety Factors of Utah Country Living
Crime is very low here in Enterprise, another wonderful factor for old and young alike. We know you can't become too lackadaisical and one needs to always be aware of their surroundings in this day and age but I feel so much safer here in Enterprise than even in the relatively small city of St. George, with much less crime than large cities across the nation. You can leave your windows open at night here and feel safe, something I wouldn't think of doing in a larger city. Not only the rare incident of crime but in a small town, everyone looks out for one another. It's very easy to spot something array or a stranger in a small town, someone in question and, believe me, everyone notices if there is a questionable thing going on.
My husband and I are advancing in years and I would prefer living closer to our kids who live in cities just outside of St. George, knowing the day will come when we may need more help but feeling we are independent enough to carry on pretty much on our own.
Enterprise Reservoir: Outdoor Paradise
The Enterprise Reservoir is just a few miles out of town nestled in one of the prettiest places I have seen. Mountains surround it and streams flow from it. Tall trees add to the beauty and give us the blessed shade in the summer. It has a state park camp ground that offers a unique camping experience among rare odd-shaped sandstone hills each camp space sits in. The fishing, boating and kayaking in the reservoir is exceptional.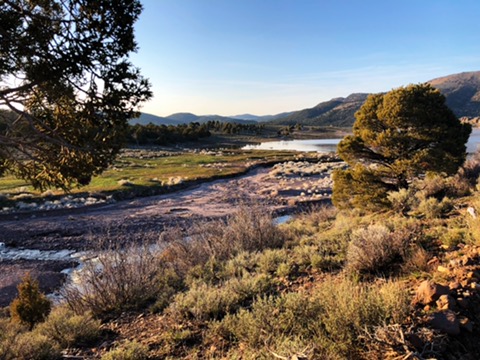 We Love Our Neighbors!
A beautiful example of what it feels like to be part of a small community is an experience we just had that really opened my eyes to how lucky we are to have been accepted into this sweet little town of Enterprise. A chain of events is worth mentioning here, just to illustrate how good people are to one another in small towns. It's almost like one big family.
I wanted a large boulder for our front yard. I called a man we'd become acquainted with, who had actually become sort of a friend, who builds custom homes and owns a rock quarry. I told him I wanted a large boulder. He said to go to his quarry and mark the ones I wanted. When I asked about the cost, he said it wouldn't cost us anything and he'd even deliver it. (I was stunned, I expected it to be very expensive.) He did as he said he would but then I wanted another rather large boulder we already have moved near this one. We were sitting outside, one evening, in the front yard in a shady little glen we've created there and saw our neighbor to the right walking past, on his way back from his mother's house up the street. We called out to him, to say hello and invited him over to sit for a minute and chat. We spoke of wanting to move the big boulder next to the other one and he told us Harv could come get his fork lift and use it anytime he wanted. He got it at a very reasonable cost fromm his place of business when they replaced it with a better one. He said he'd leave the key in it and it had plenty of fuel and just come get it whenever. What a joy this was as well! Harv got it the next day and did a few extra things with it that needed to be done around our yard. He got the said boulder moved but kept getting stuck in the soft dirt he was working in and couldn't maneuver it where I wanted it.
So many boulders, so little time!

We found the right one!
Another neighbor, to our left, who builds fences and has all kinds of heavy equipment offered to come over with his heavy duty tractor that is made to work in small places and set the boulder exactly where I wanted it. He came and got it positioned just right! Another friend we have here, who has 1000's of acres of farmland and lots of heavy duty equipment, without a word to us but seeing the need, brought a dump truck load of gravel to put a padding over our dirt driveway. It's still in a pile, where he dumped it. My husband said another neighbor across the road and down a ways from us, noticed the pile of gravel and with no request on our part came to my husband and offered to spread it over the driveway! Every time I think of this sequence of events, I am very grateful to live in a town such as Enterprise where people, although busy, take the time to reach out a hand to help their neighbors. There are many other instances of this same type of helping one another that I won't mention but suffice it to say, this is common here in Enterprise.
Local Arts and Entertainment
Another quick point I'd like to bring up is something that left me spellbound the Christmas before last. There is a small community, only about 7 miles from here named Beryl Jct. It is basically just a handful of people doing various things, one woman raises goats and we've bought goat milk from her, others are making items to sell and on and on. They are surrounded by huge fields of alfalfa and corn, which is the main industry here in Enterprise. Huge farms with absorbent farming equipment that costs as much as expensive homes. This is a farming community.
Back to Beryl Jct. Two years ago, I saw a flyer that this tiny little community was presenting "The Nut Cracker" during the Christmas Season. I kind of snickered to myself thinking it seemed so out of context with the outer looks of this place, to see any type of culture and especially a live stage performance. I even wondered where they housed a stage in this remote place. Well, I felt very ashamed when we attended that performance two years ago. The back drop for each scene was expertly painted by a very talented artist, the young ballet dancers were beautiful and performed as well as any professional Nut Cracker performance I've ever attended. What they lacked in pro lighting and stage equipment they certainly made up for in talent and presentation! They even had beautiful little homemade cookies that were shaped like ballerina's and frosted to perfection, bringing out each detail down to the ties on their ballet slippers. These were passed out to the audience, for free! I was in awe at this beautiful rendition of The Nutcracker performed on the tiny little stage in Beryl Jct.
Maybe this alone sums up what country life is like. We think only large cities are able to offer "first class" type entertainment. Wrong. Of course you can throw in the performances at the elementary, middle school and high schools here in Enterprise that I have personally attended as well as the amazing events they annually produce for various holidays and the people who are honored at these times. We had a WWII POW man, a friend and neighbor who had many stories written about him and had been interviewed on national radio and television programs. We have a lot of talented people living in our midst as well as heroes and someday, I hope to write a book about "My Little Town" and highlight specific people who live here with talents that one would never realize looking at them from the outside. Our neighbor with the fork lift used to work with a master Luthier, who was a maker of world-class violins that sold for thousands of dollars and taught our neighbor the art of a luthier. He, himself, has made these exquisite instruments and sold for a very high price.
What I love about Country life
These three things are what I love about this endearing little town. The low crime, practically non-existent; the beautiful summer temperatures (we do get snow in the winter that is a fun thing for this girl raised in Las Vegas) and I do love having the four distinct seasons. Thirdly, the camaraderie you find in a small town. People who see a need and respond, even before being asked. We have felt like we are part of an extended family here. We try to give back to the community in the ways we can. My husband is always willing to go help when there's a request for an extra hand to help someone and I like to do a Summer Art Camp here each summer, in my back yard for the kids in town.
"We have felt like we are part of an extended family here. We try to give back to the community in the ways we can."



The Story of Country Living
If anything, I have learned that no matter the size of a town, each person has their own, unique story and talent is not limited to only those living in large cities. Gold nuggets are found in remote streams, so it is with golden people. Enterprise lays claim to these special people. It is a special community that I love to call home.
Please visit www.SavvyGrams.com to read more about the life of a Savvy Grams living in the Utah Country! Thanks for this insight Mom!