St. George, Utah Real Estate Market: June, 2019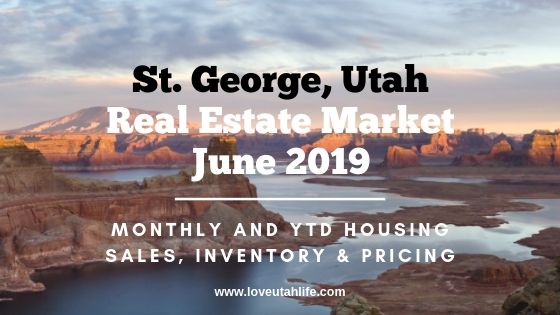 Sales, Inventory, & Pricing on the Housing Market
I'll be honest, the figures for the St. George, Utah Real Estate Market for June are not quite what I expected. I thought we would be competitive with last year's stats, so let's dive in and breakdown this market…
Sales for June, 2019 in St. George, Utah Real Estate Market
Sales were down for the month of June compared to June, 2018. There were 471 homes closed in June, down 10.1% from 2018. Year to date, home sales are down 3.5%. Not as drastic as the monthly statistic, but still not promising. What's the reasoning behind this? Let's dive in to pricing and inventory…
Home Prices for St. George, Utah
Relatively speaking, home prices are up in the St. George, Utah real estate area. The median sales price for a house was $312,000, up 5.76% from 2018's price of $295,000 for June. Year to date, median home prices are up 6.29% for the area. This is a healthy growth rate. However, let's take a closer look at inventory trends to determine what direction the market is headed…
Home Inventory in Washington County, Utah
Inventory is tricky. Across the board, it appears that inventory has increased in the St. George, Utah housing market. There were 1514 Active Listings in the vicinity for the month of June, up 11.7% from 2018. However, in the median sales price range, inventory is not as active and the price range with the most active listings is in the $750,000-$999,999 price range, which is up in inventory over 27.7% from last year and also one of the lowest in sales. Only 12 homes were sold in that price range in June versus 180 in the $200k-$400k price range. In the hottest price range, inventory was down 3.3% and down 4.5% year to date.
Tips and tricks to buying a house in this market
This is a tricky market for buyers. Speaking from experience, if you are looking for a newer single level four bedroom home under $400,000 in the St. George, Utah real estate market with a nice sized lot, it's almost impossible. I'm working with several buyers right now and we are having the hardest time finding them the "perfect" property.
I don't have time to go in to details on this post about finding the "perfect" property either, so what I quickly recommend for buyers based on the current housing stats is to negotiate the best price possible. Ask your real estate agent to pull some quick comps for you so you know you aren't paying over market value, and ideally, try to get the house for at or $5000-$10,000 under market value. If you are buying in the price ranges of over $400,000, try to shoot for $10,000-$20,000 under asking price.
This recommendation is based on the goal of resell. If you aren't planning on selling within 10 years, you don't need to worry as much about price because you will most likely recoup any unforeseen losses. But still, who wants to pay significantly over market value?
And even still…some houses are going to fly off the the current market! If they are in a desirable location with a great floorplan, finishes, and features, you will have to jump on the property QUICK! My friend's house was in the $700,000 price range and it sold within a week with multiple offers because it was such a cool house!
June 2019 Housing Market Report
Click here to download the full Housing Market Report for June, 2019 in Washington County, Utah. If you have questions about the stats and data, don't hesitate to reach contact me.
Hello August, Goodbye Summer Break…
We are fast approaching August, which means I'll be updating with July's housing stats soon. I cannot believe school will be starting in a couple weeks…I think this might have been the shortest summer season in history with the cooler temps! It's been a great summer and we have tried to pack in as much fun as possible…luckily we live in an area where we can usually explore and enjoy the outdoors all year long! Let me know if you'd like to find out more about moving to our beautiful neck of the woods.
Thanks for reading,