Home Renovation Costs: What To Update To Sell Your House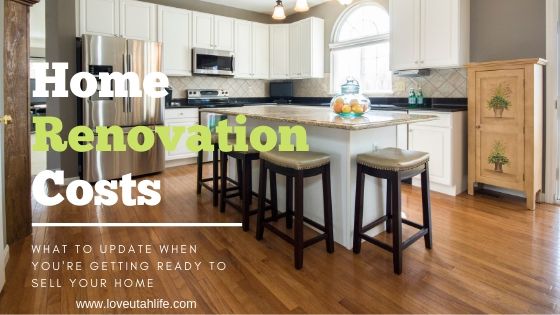 Want to sell fast for the most amount of money?
But you don't want to completely remodel your entire house? Here are a few of my recommendations in order to sell your house quickly and profitably. Home renovation costs don't have to break the bank and it's not always the smartest decision to invest a bunch of time and money into a remodel job when you know you will be selling soon.
Disclaimer: I have used affiliate links throughout this post. Click here to read about my affiliate links used throughout my website. 
Quick & Easy Home Updates
The kitchen is the biggest interior selling point of most houses. It's not usually feasible for a homeowner of a dated home to remodel the kitchen so here are a few simple and easy ideas to update your kitchen.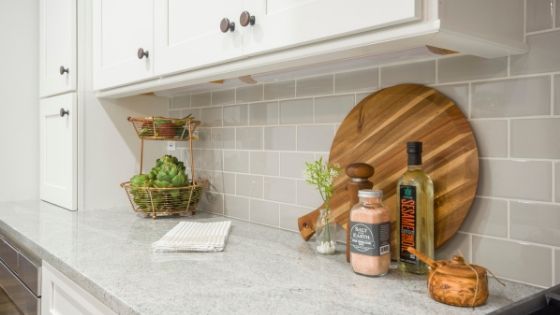 Replace your cabinet hardware 
You don't need to invest in high-end cabinet hardware to transform the look of your kitchen. And you don't have to match all of your metals in your house either. Henry Walker Homes talks about metal matching here in case you are curious...
These pulls from Amazon are a little over $1 each and come in four different metal finishes. It's so easy and simple to swap out your cabinet hardware and can totally update boring cabinets quickly!
Update your lighting fixtures
If the lighting fixtures in your house are more than ten years old, there's a really good chance it would be a good idea to buy new fixtures. And unless your house is considered a high end luxury home, you don't need to spend a fortune on lighting to make an impact. In fact, please don't spend a fortune on lighting! It's not necessary. The most expensive component of new light fixtures is if you need to hire an electrician or handyman to replace them. Here are a few of my favorite fixtures from Amazon...click on the pictures for pricing and ordering information.
Clean out every closet and cupboard
This update is totally free and won't cost you a thing except for your time! You could actually stand to make a few bucks if you learn how to sell your "clutter" online!
I'm sure you've looked at houses where the closets are stuffed full of "treasures" and the cabinets are totally messy and disorganized. It's really hard to live in a perfect home, but if you are thinking about selling, you need to make it look like the cleanest people on the planet live in your house.
The best thing to do is to have a huge purge and get ride of any extra clutter, including wall and shelf clutter. Pack up clothes you won't be wearing any time soon and store them in nice, neat containers in the garage. You want it to feel like a blank canvas so the next homeowner will be able to imagine themselves living there. And if you do purge and end up with a lot of garage storage, you need to make your garage storage appear perfectly organized as well.
When in doubt, paint it out!
Painting is tricky because it's hard to accomplish if you are still living in the house. And if you hire someone to paint your entire house, it's expensive. But if it's an option, I definitely recommend a fresh coat of paint if your walls aren't already a neutral shade of white.
I know that's so hard especially if you just painted recently...and if you can't stomach white walls choose a light color you can live with that will match your existing flooring. Not a light pink or blue or yellow though! My very favorite neutral paint color is Agreeable Gray from Sherwin Williams. It looks amazing in EVERY house!
Light paint opens up houses and makes everything feel more spacious and bright and cheery. And if a potential buyer loves dark walls, it's so much easier to envision painting light walls dark than it is painting dark walls light. Does that make sense?
I showed this house recently and between all the decor and the dark paint colors, my client said the home will take too much work. And it's a relatively new home!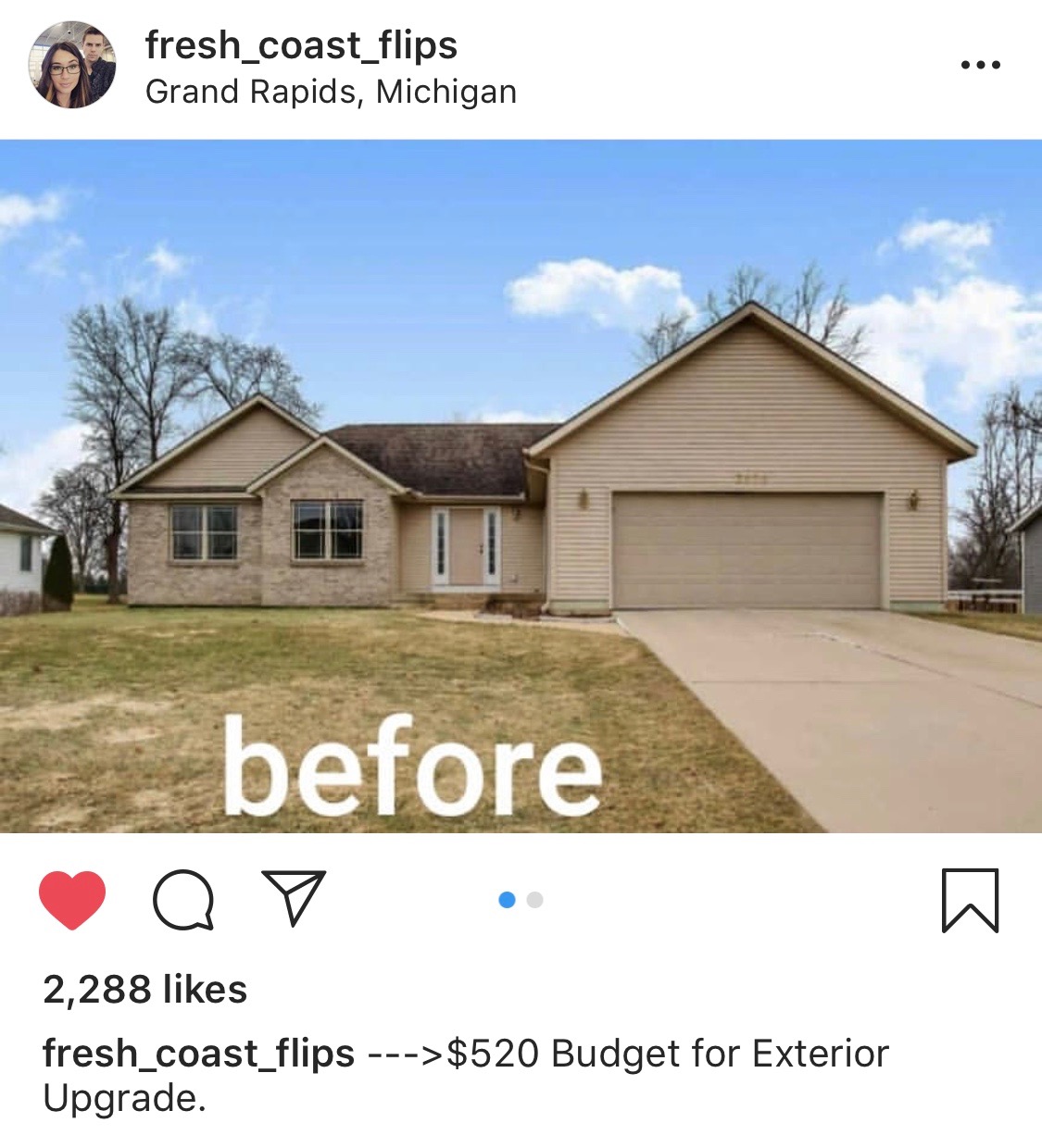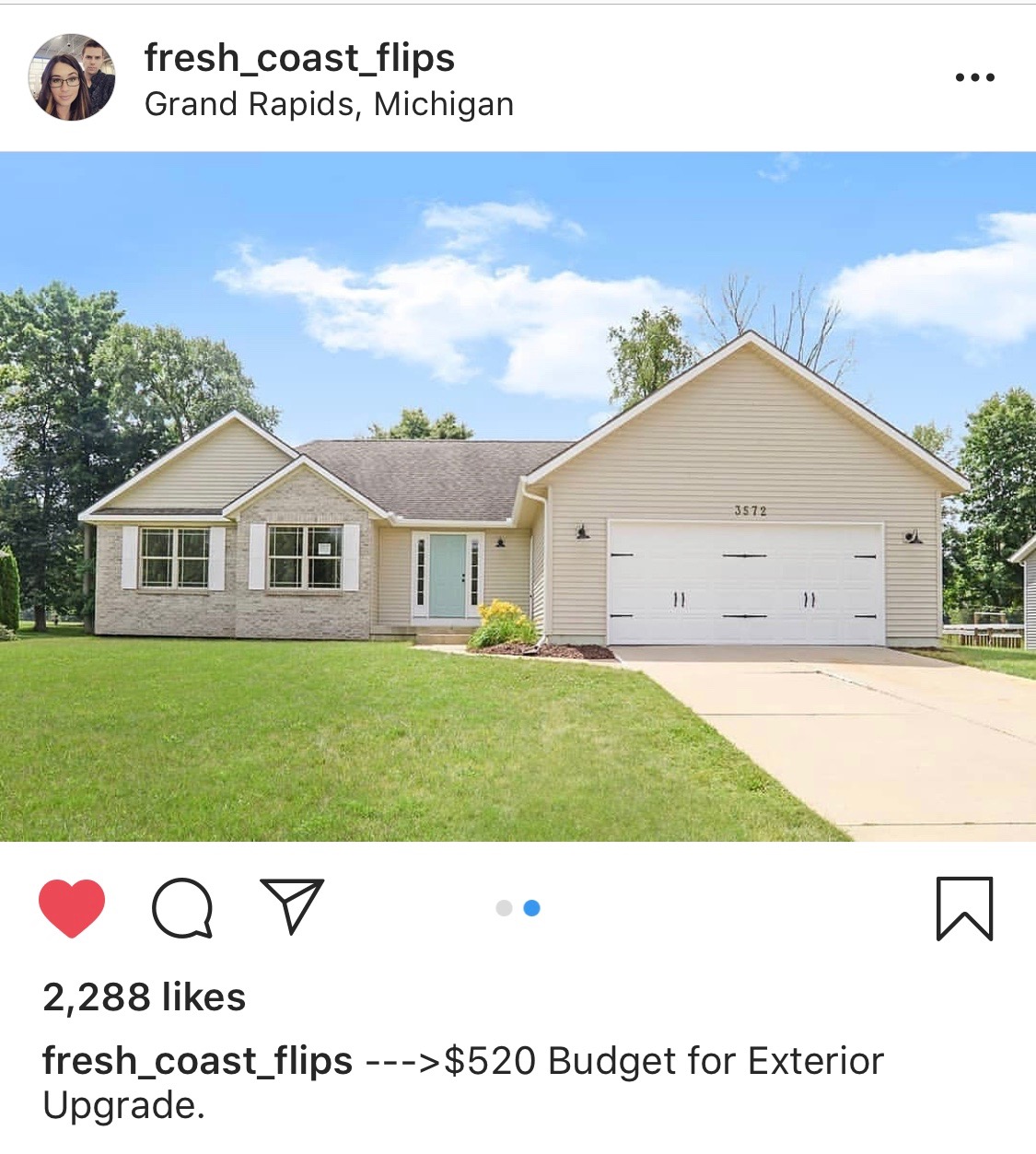 They said they only spent $520 updating the exterior of this house because the interior ate up all of their budget...but it just goes to show you don't have to spend a fortune to make a HUGE impact!
Here's a breakdown of their expenses:
$80 Garage door & trim paint
$30 Front door paint
$50 Wood chips
$50 Spray roof wash
$0000 DIY Labor!
What Changes Would You Make To Your House?
If you could make one change to your house right now, what would it be? Do you love everything about it or do you feel like it could use some sprucing up? It really does not take a small (or huge) fortune to update and enhance your environment. I hope that you found these ideas useful and if you have anything else to add, I'd love to hear all about it in the comments!
Thanks for reading,