St. George Utah Things To Do and Area Updates – Spring 2020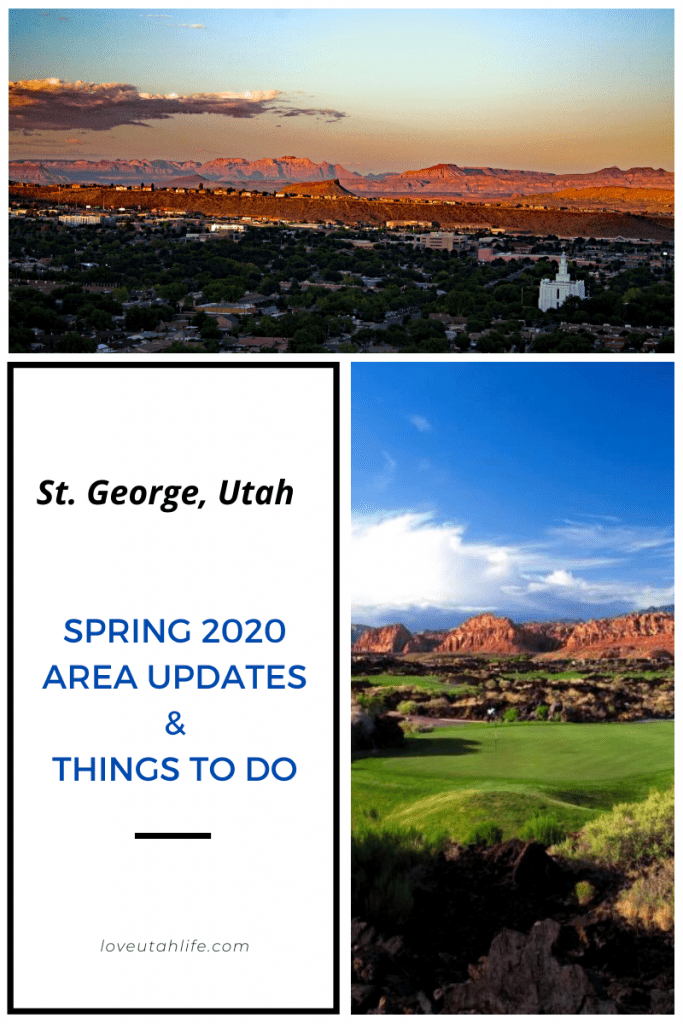 Southern Utah is booming! Word is spreading fast what an amazing place we live in and with the growth is coming so many exciting new developments and businesses. Here's a not so brief St. George, Utah things to do and area updates presented by Love Utah Life. Also, if you want to sign up for my newsletters click the button below so you never miss out on updates and information.
I could not believe when I heard the news. Yes, it's true, St. George is getting our second Chik-fil-A location on South Bluff street in Commerce Point. Me and my family are so excited for this for several reasons:
It's closer to our house.
The other location is SOOOO busy.
The west side of town needed some fresh new business.
My five year old is obsessed with Chik-fil-A 🙂
It seemed like everyone wanted to be on River Road for the longest time. It gets tons of freeway exposure so it makes sense for commercial real estate. But South Bluff gets tons of exposure as well and I am so excited about Commerce Point going in! There are quite a few other eateries and retail shops going in and the new Maverick on South Bluff is actually really great. I thought for sure it was going to be a nightmare to get in and out of while we were watching it being built and it's surprisingly easy to navigate.
Here's a mockup of the location and how the buildings will be arranged courtesy of St. George News. It will be right off the Bluff Street I-15 freeway exit, across the street from McDonalds and the Black Bear Diner. There's several hotels within walking distance as well as close proximity to the St. George Convention Center.
There are a lot of races going on in St. George, but the Southern Utah Half Marathon is my favorite because it's in the spring close to my niece Hallie's birthday so my little sister runs it every year, and once in a while I join in on the fun. It's a beautiful course that starts at the Highland Park in Coral Canyon and runs mostly downhill to the Bloomington Man O'War Park. This year we are also running for Kycie Terry as part of Team Kisses for Kycie. I can't think of a better reason to run and raise awareness.
I have been training for 6-7 weeks now and am looking forward to the race. I am also turning the big 4-0 this year and set a goal to run a half marathon in under 2 hours, hopefully before my birthday but I might have to settle for the end of the year the way my pace is looking. Maybe I'll talk some more in future blogs about running and racing through St. George and what it's like to train in as an elderly. Ha ha.
You can read more about the Southern Utah Half Marathon and follow Kycie's parents here:
Desert Color is pretty exciting! My husband and I went out last week for a tour of a few of the models and we were blown away with the progress! There will be several builders and price ranges to choose from. I LOVED AJ Construction's Parade Home and could have moved right in.
There will be five white sand lakes in this first phase of the development, which will be private to residents and guest. And the crazy part is this first phase is just a small part of the master plan! I've heard there's supposed to be over 10,000 homes when it's finished, which to put it into perspective is larger than the city of Ivins. You can see all of the homes available by clicking the button below.
There's also plans for a movie theatre, hotels, a Big Shots Golf venue, and rumor has it that Costco purchased land for another warehouse. The location is excellent in my opinion and the added bonus is it is close to Sand Hollow with the Southern Corridor access as well as the Arizona Strip.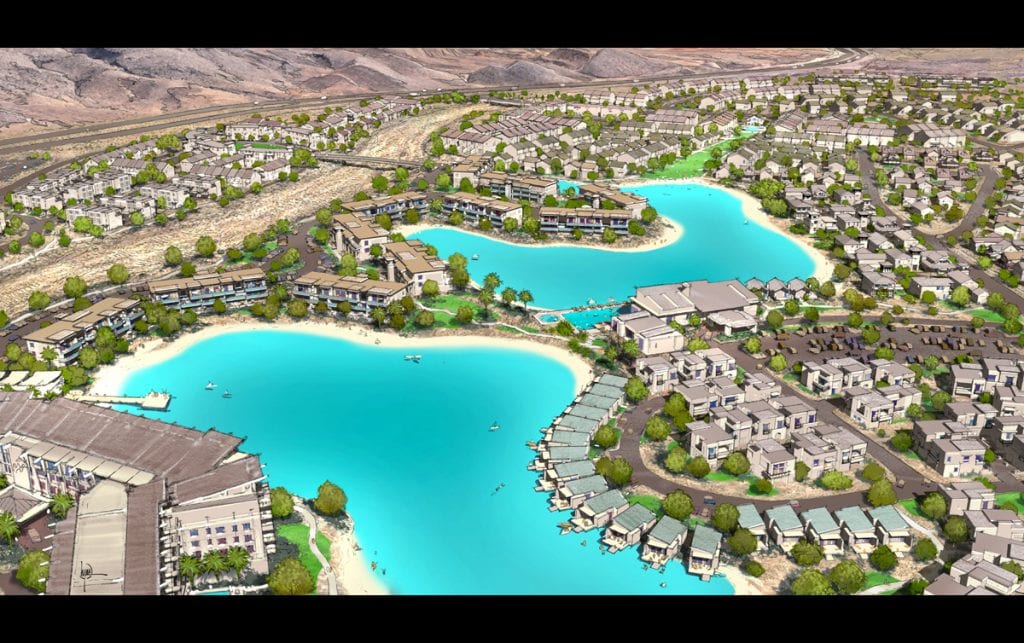 Another new amazing development on the west side of town near Sunbrook Golf Course, Divario will be spread out over "730 acres, Divario is masterfully laid out to take advantage of the numerous canyons and trails located within its boundaries connecting to natural preserves for hiking, biking and off-road enthusiasts..." (divarioliving.com.) The land is basically centered around the world class mountain biking and hiking trails that put St. George on the map in the biking community. The views are unbelievable and it is also close to several golf courses and the best parks in town.
Sentieri Canyon at Divario is the first subdivision to go up and it is very exciting, to say the least. Ence Homes released the first phase in October 2019 and new home build jobs are currently limited to 2 sales a month because the demand has been so high. I was lucky enough to help one of the first homeowners with their purchase...their house turned out beautiful!
If you would like more information on this subdivision, you can contact me here. I'd love to talk to you about the building process. They also have one gorgeous home for sale with the most amazing views. Click the button below for more information!
Downtown St. George is booming! City View Apartments are complete, Joule Plaza is crossing the finish line, and Marriot's Autograph Collection hotel - The Advenire - opened their doors the first of the year. Wood.Ash.Rye is on the bottom floor and I've heard from everyone on Instagram that it is fabulous!
I just LOVE the vibe going on downtown! If busy urban sidewalks lined with twinkling string lights are your thing, I promise you will love it. I highly recommend an evening stroll through downtown from Town Square to the Opera House. Make sure to cut through Green Gate Village and the City View Apartment courtyard. You can even rent a Spin Scooter if you want a little more adventure!
Another great attraction downtown is the new Zion Brewery! What was once St. George's first fire station is now St. George's first downtown bar! Even if you are not a bar goer, you need to take a tour through Station 2...the design is EPIC. There are multiple outdoor patio areas, a billiards room, and a mid-level sports lounge gathering room. George Streetfest kicks off March 6th, which would be the perfect opportunity to visit all of the new downtown digs!
St. George Utah Things To Do - Spring 2020
There are so many fun things going on this spring all over Washington County! Here is just a few of my favorites. Leave a comment if I am leaving out a major event!
Washington County, Utah Spring Break
Washington County School District kicks off spring break March 15-21 which I believe is a little bit later than years past because it doesn't fall on the same week as the time change. I am so ok with this because it felt like our spring break was scheduled so early and it tended to be a little cold so hopefully this will give us another week to let Mother Nature warm up just a bit.
Easter Weekend is the annual St. George Art Festival and I would highly recommend visiting this fun downtown attraction. The weather is almost always perfect for the event and the city is so beautiful this time of year. Local and national artists have their booths setup and the talent is AMAZING. With the new downtown businesses it really is going to be a fun weekend!
St. George Ironman North American Championship
The St. George Ironman is the first weekend in May and it is a really big deal this year as St. George is the home of the North American Championship for Ironman contenders. Athletes from all over the world will flock to St. George for this event and the city comes to life. Years past there's always a George Fest the night before with music and a food truck roundup
Cannot wait for Spring!
Did I leave anything out? If so, leave a comment with other suggestions! If you liked this post I would love for you to share it on your favorite social media channels! And I'd love to hear what you are most excited about this spring. Thanks for reading!