All About St. George, Utah Airbnb's & VRBO Properties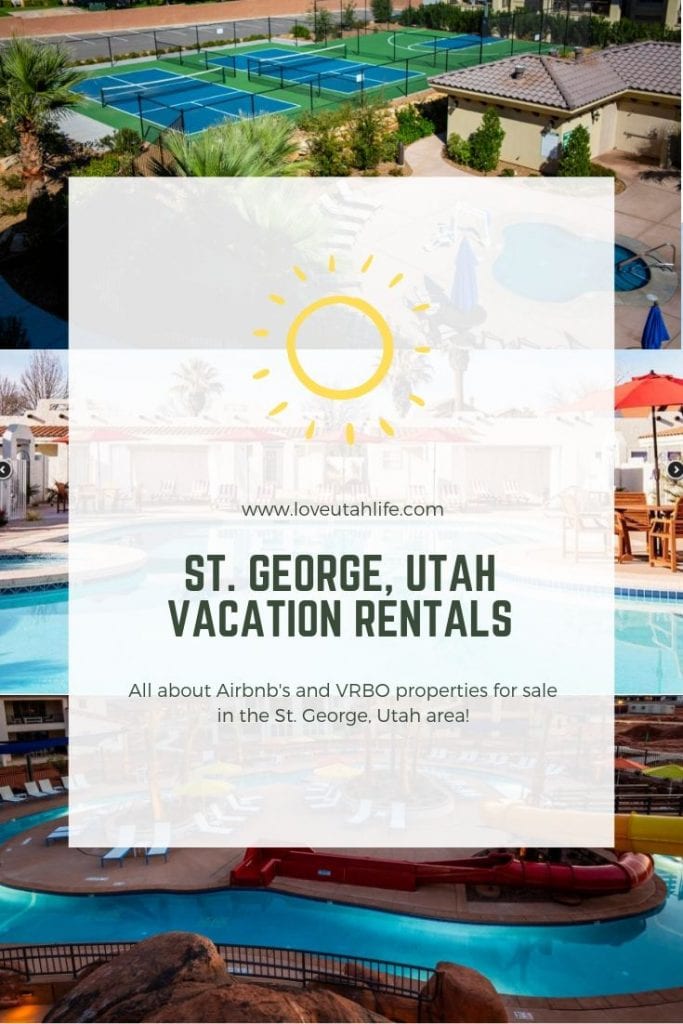 Have you been thinking about buying a St. George Utah Airbnb?
The nightly rental business is booming in Southern Utah due to the massive tourism volume we receive. There are a lot of reasons why people love staying in the St. George area when they are visiting Utah...it's a great central location to see everything our beautiful desert has to offer! If you're considering buying a St. George Utah Airbnb or VRBO property here's some tips I've learned as a real estate agent as well as some of my favorite communities.
Why People Love Visiting St. George, Utah
St. George has been a popular tourist destination for decades but in the last few years there has been a huge increase in tourism due to a marketing campaign the state of Utah has been running for several years. For instance, due to the campaign, Zion National Park's attendance skyrocketed and is currently at over 4 million visitors annually. Zion National Park is only 45 minutes from St. George and all of those millions of visitors love staying in vacation rentals!
My Favorite St. George Vacation Rentals
Washington County has really cracked down on the zoning requirements for nightly rentals. There are designated vicinities throughout the county where nightly rentals are allowed. Here's a primitive map that shows across the county where legal nightly rentals are allowed and have sold throughout the area.
Also, I've spoken with property management companies frequently about the profitability of vacation rentals and in order to keep the property booked regularly, they recommend being able to sleep a minimum of 16 people and providing a lot of indoor activities within the unit.
I LOVE Paradise Village at Zion for several reasons. First off, the location is so great! You're close to Snow Canyon State Park and Tuacahn but far enough away from the hustle and bustle of town. Also, all of the units are detached with big garages and you can sleep quite a few people within most units. There's an incredible clubhouse and playground but the crown jewel is their new waterpark! It's like a private Wet'n'Wild for the residents! I also love the decor and finishes in most of the units I've seen. They are newer and trendier than a lot of other units in that area. Click on the picture below for a current list of the available units for sale.
I am partial to Entrada properties because I work here full time...but these really are great investment properties. I've been told these are the most profitable units in the county...they are uber popular and are consistently ranked as some of the best places to stay in St. George on Tripadvisor. It might be hard to use the unit for personal purposes because they are booked so consistently. The amenities are top notch at Entrada and as an Inn Owner/Guest, you have golfing privileges, which is rare unless you are a full equity member at the country club. The units I've been through are a little dated but it would be easy to update quickly in between bookings with fresh decor and paint. There is currently one unit available to purchase but contact me if you would like me to setup an instant search so you know when more units are available.
Encanto is just down the road from the Inn of Entrada and borders The Reserve at Entrada on the north boundary and The Red Mountain Resort. The style is very similar to Entrada with flat roofs and desert landscaping. The community is gated and has a lovely clubhouse and pool area. All of the homes I've been through are absolutely breathtaking. Brian Geer is the primary builder but there are lots available to build on and you can choose from a list of approved builders. I love that there is this little pocket neighborhood of nightly rentals so close to Snow Canyon State Park. It truly is a gorgeous location. Click on the picture for available units and lots in Encanto.
Bloomington Vacation Villas
I love the style of the Bloomington Vacation Villas! They are playing on the nostalgia of St. George's first and oldest country club, The Bloomington Country Club, with a mid-century modern vibe. The villas are situated within walking distance of the Country Club, which has fabulous amenities such as a golf course, pool, restaurant, and tennis courts. Bloomington is a quiet, tree lined neighborhood far enough away from town to feel like you are on vacation yet close enough for shopping and activities. There is only one unit listed on the MLS but I can send you more info on building if you contact me.
More Vacation Rental Properties For Sale
There are so many other great areas that offer nightly rental zoning! I'd love to help you find the perfect vacation property to suit your needs. Or click the button below for a list of all the properties currently for sale in Washington County!
Want to know more about vacation rentals in St. George, Utah?
There's a lot to know when considering purchasing a vacation rental property. I'd love to chat more with you about the in's and out's of vacation rental ownership and all of the options in the St. George area. Contact me any time or stop by the Entrada model home and say hello!
Thanks for reading,