5 Tips on Building a New House in Utah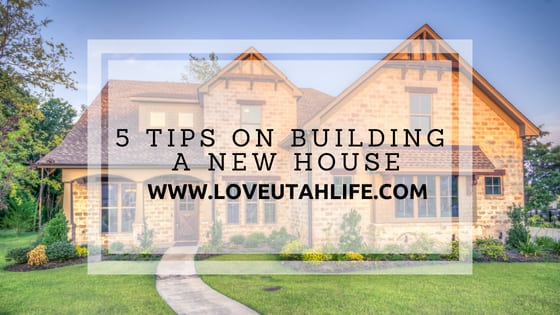 The real estate market is booming right now and it can be difficult to find the perfect home in Washington County, Utah. Or anywhere in the country for that matter. Building a home is always an option, but intimidates a lot of buyers. My husband and I have built four homes in the St. George area, so I thought I would put together my tips on building a new house.
1. Always Build to Resale
This is probably the single most important aspect of building a home. Always think about being able to resale the house down the road, even if you think you will never sale. If you've been looking at buying, you've probably walked through quite a few homes that after viewing them you wonder what the people who built it were thinking. And then you've probably walked through older homes that are neutral and timeless and you could easily envision your family moving right in.
It's ok to customize your home to fit your needs, but try to stick with a popular floor-plan and timeless features if at all possible. I would recommend avoiding anything that would cost a lot of money to change, such as an elaborate built in entertainment center or intricate exterior trim work or extremely custom tile work. I know it kind of takes the fun out of building, but it will save you a lot of trouble down the road, I promise. Try to find as neutral a color palette as possible that you love. Add color with paint and decor.
2. Ask the Builder for References and Interview Several Builders
Building a good relationship with your builder will determine how your home building experience goes. If you hire a builder who you are unhappy with, you will probably not be happy with your home after it is complete. Do A LOT of research when choosing a builder. Ask him or her for at least 5-10 references and check every online review you can possibly find. Interview several builders before you make a decision. Ask them about their process in detail and if they get behind schedule, how do they handle it? Ask A MILLION questions...and then a few more. There is not going to be a perfect home building experience, but how a builder handles hiccups is a huge factor.
3. Find a Builder Who Will Carry the Construction Loan
This might be a controversial topic and I might get arguments about it, but if you aren't paying cash for your house, I would avoid doing a construction loan through a bank during a booming real estate market. My reasoning for it is that most build jobs are taking longer than 6-9 months right now and most banks only want to loan out on a build job for 9 months. If your build job goes over 9 months, they will start charging you fees. I had a friend who built recently and paid almost $50,000 in late fees on their build job because it took over a year to complete.
If a builder has the funds to carry the construction loan, they most likely are busy and have a steady stream of work which means that they have good sub contractors who will complete the home in a reasonable amount of time. In St. George right now, that is about 9-10 months for a busy builder. But it's not uncommon for a build job to take a year right now because there is a shortage of construction workers in the area. I found this great blog post from Stauffer and Sons about Construction Loans as well with additional information.
4. Pick an Existing Floor Plan
I might be taking all the fun out of building, but you will save a lot of money if you can find a floor-plan you love from a designer you love. If you want to have custom plans drawn up, the cost is going to skyrocket. Plus, if you choose a floor-plan that has been built, they will have worked out all the kinks. I had a friend who built with custom plans from a very expensive designer and when they ordered the roof trusses, they didn't line up correctly. I can't remember if the designer credited them money for the error or how they remedied the situation, but you can just imagine what a problem it caused. Of course if you have a specific lot that is going to require a specific plan, you will most likely need custom plans. However, there are a lot of designers in the Washington County area with so many unique, fun floor-plans to choose from. Let me know if you would like me to send you a list of designers!
5. Enjoy the Journey
This sounds cliche, but you really do need to make a conscious effort to enjoy the journey, or every little hiccup is going to drive you crazy and you will resent your home after it's built. I love this blog post by Erin at The Sunny Side Up Blog about her home building process.  I love that she loved all her sub contractors and made so many new friends along the way! My friends/clients who just finished building told me the entire time, "We just want this to be a good experience for everyone!" I love that they kept repeating that because it made me realize, it can either be a good experience or a not so good experience but it really is a choice and as long as you do your research and make smart decisions along the way, the best thing to do is choose to enjoy the journey!
These are just my tips and opinions and everybody's building experience is going to be completely different, so most importantly, you will need to be adaptable and open to a little bit of chaos!
If you have any questions about building in St. George, please feel free to contact me at any time! I would love to talk to you more about the process! There are so many different neighborhoods and builders in town it can be extremely intimidating...but well worth the effort in the end! If you have built and have further information to share, please comment below! I would love to hear your thoughts on the building process.
As always, thanks for reading!